Welcoming Runners Retreats
Having competed at the highest level both nationally and internationally, Lewis Moses established Runners Retreats with a team of highly experienced running coaches. Their objective is to help runners find their true potential and we've been delighted to welcome the Runners Retreats athletes to Hotel du Lac during two consecutive summers. Here Lewis tells us about their retreats and why Hotel du Lac makes the perfect destination hotel.
Tell me about Runner Retreats – who are they for and where else do you go?
Runner Retreats are for runners of all abilities who want to surround themselves with positive, like minded people. We have retreats, camps and workshops around the UK and in the French Alps and our key locations include Morzine (based at Hotel du Lac), the Lake District, the Peak District, Loughborough University and London Olympic Park. When we set Runner Retreats up we had the vision of taking runners to inspiring locations around the world so they could enjoy their training and learn from some of the UK's best coaches.
Of course we have endless trails in our local area, but what attracted you to Montriond and the Portes du Soleil for your retreats?
As co-founders, myself and my wife Gemma came to visit Morzine in the summer and we were blown away. We turned to each other and said "we need to give other runners the chance to experience this amazing place". The trails are amazing, the lake provides the perfect backdrop and the hotel is an idyllic setting for what we want. Who wouldn't want to wake up with those views every day?
Who comes on your retreats? Just experienced runners, or are there different ability levels?
Runners of all abilities and all ages. Any children or young adults under 18 must be accompanied by an adult, but we've had runners from the ages of 14 all the way up to 89 years of age. Every single runner has their own story and we want to find that out, learn from them and then help them to improve their running as well as their lifestyle.
What is it about Hotel du Lac that makes it perfect for your retreats?
The location is just perfect. Our slogan is 'run – relax and repeat' and the hotel allows our guests to do exactly this. They can walk down to the lake for a nice easy run, they can dip in the lake after. They can enjoy paddle boarding and kayaking and they can do this within 100 metres of their room. The food is fantastic at the hotel and the staff are AMAZING. Kyle and the team have been brilliant at meeting our needs and making our guests feel very welcome.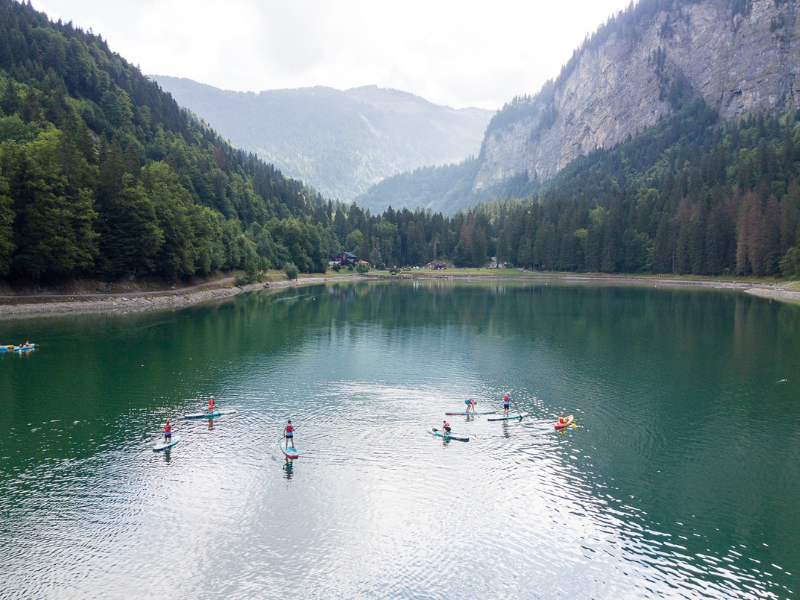 What are the advantages of joining a running retreat? What experiences do your first-timers have?
Our guests have life changing experience in the most inspiring locations. We aim to inspire people to create healthy habits that can last a lifetime. We wanted to create a holiday with a difference, whereby people come away to be active and they go home inspired and re-energised to take on life!
When you're not running during your Lac de Montriond retreat, which other areas / activities does your group explore?
We love to explore the Alps and we make sure the retreats are filled with other activities. This year we took our team to the Olympic Museum in Lausanne and took the ferry crossing from Evian, which was stunning. We also visited Sixt Fer a Cheval, which was unbelievable. The landscape was spectacular and took everyone by surprise. In our first year we travelled to Chamonix and went up the Aguille du Midi, which was breathtaking. We of course drop down into Morzine too, as we know our retreaters love to see the town and do a little bit of shopping. Who doesn't love a Morzine mug, hoodie or cap?!
Do you have plans to return to Lac de Montriond for a future retreat?
Yes absolutely, we're already booked in for 2024. We will be returning on 30th June – 6th July and this will be our third retreat. We have also been working with the hotel to put on a Trail Camp Weekend in September 2024, so watch this space trail runners! Alternatively, you can email me for more information on lewis@newlevelscoaching.co.uk